x
ABOUT US
WELCOME TO

DEV Construction
WHO WE ARE
DEV Construction is a full service construction company focused on both construction works and architecture.
We always have an individual approach with our clients and work on tailor-made solutions to reach the maximum effect.


PDF PRESENTATION
CONSTRUCTION WORKS
Why should you use The DEV Construction ltd?
Our Company specialises in Luxury Interior & Exterior design.
All our Team are fully qualified, we use long lasting effective Thermal materials that protects and extends the life of the Building.
We have Quality Control in place to ensure we deliver high quality work.
We also are happy to provide a Warranty on our work.
Our intentions and commitment are

ENVINRONMENTAL POLICY

HEALTH & SAFETY POLICY








MAINTENANCE WORKS
Maintenance work can consist of painting, repair of the walls, repair or exchange of the doors, floors and etc.
Our Construction Division is staffed by experienced Engineers and Technicians who provide efficient Solutions for troubleshooting and repairs.
With our partners we are to offer full service solution to construction industry where we can also sort issues regard gas, asbestos, electricity, road works and etc.
INTERIOR & EXTERIOR VISUALISATION
For our customers we are able to design luxury interors, exteriors and landscape visulization. When should you consider 3D visualization?
When it is important to see exactly what you will get (for example, how the material + material colour and overall style will looks like, the color and style of the floor, the decoration of the marble floor, the design and depth with type of lighting of the ceiling, the position and brightness of the light decoration, the exterior lights, ...).
Changes to the 3D model are applied more quickly compared to the ongoing construction stages.
Also, changes to the 3D model are cheaper compared to changes to the ongoing construction stages, where need to be considered the cost of updating drawings, update calculating of the floor, workforce, materials, equipment, time, etc.
In the 3D model, you can change anything without having to think about, an existing services that are already in place, existing steel structure that is already laid, existing constraints on load bearing of the floors and etc.
We are also able to reconstruct any design from a photo, convert it to a 3D model, then to drawings and build it. Here is one of our example of what we can do. On the right side you can see the original photo and on the left side is our reconstructed 3D model, which is ready for implementation into drawings.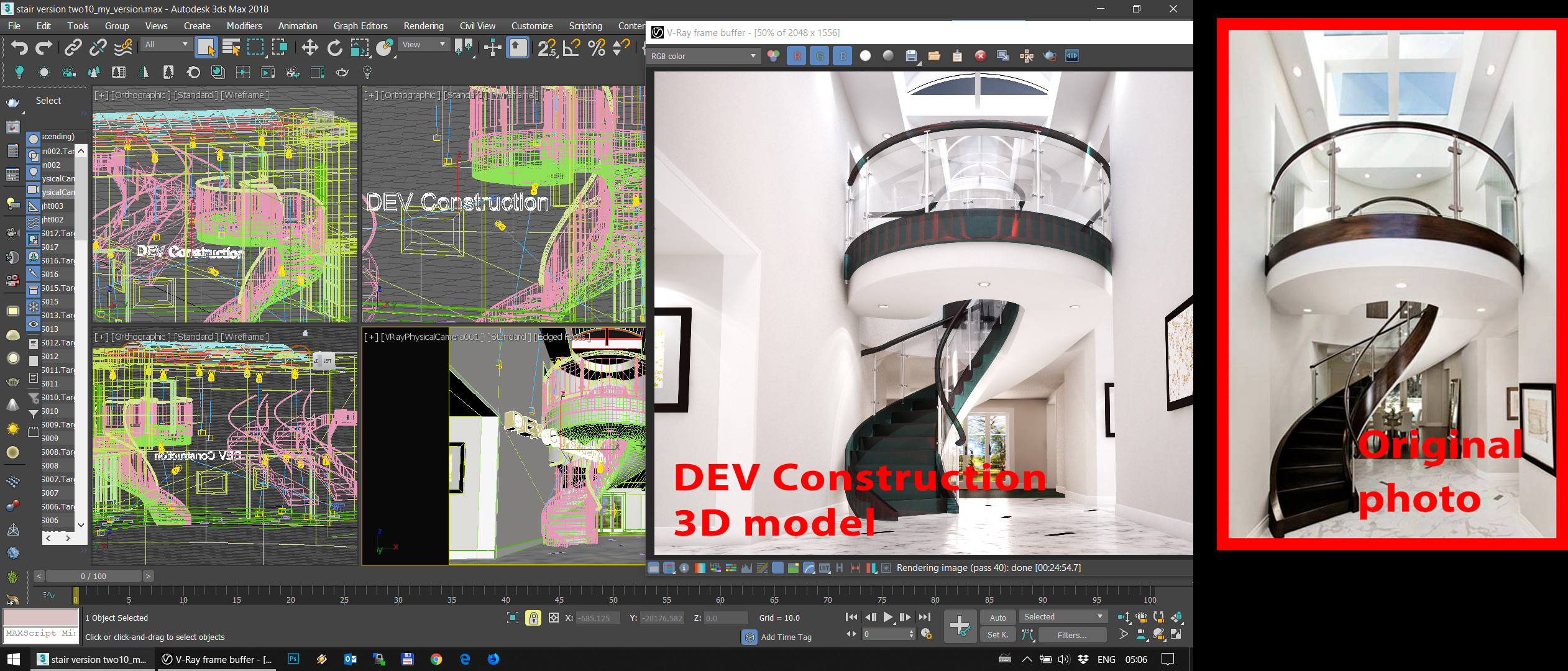 PROJECT MANAGEMENT
We are able to manage the project through AGILE, PRINCE2, PMP, SCRUM project management frameworks, identify and plan work activities, prepare project documentation, plan quality control, quality checks of the work, ensure that legal Health and Safety requirements are implemented in the project and followed, implement a system to ensure that the project is correctly monitored and completed on time and on budget and so on.